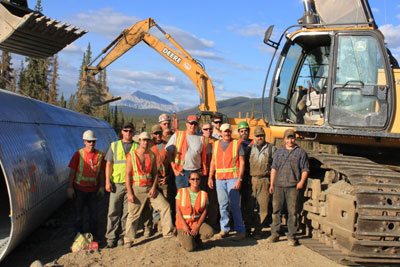 As a general construction company Great Northwest, Inc. (GNI) performs a wide range of construction services from residential landscaping to $30M+ heavy highway projects.
Check out our featured article in the October 2016 edition of the Alaska Business Monthly magazine.
Great Northwest maintains strong ties to the local and statewide community supporting many civic, youth, sports and community organizations through donations of labor, equipment, material, cash and goods as well as sustaining active membership participation in many of these organizations.
GNI employs between 50 and 250 employees who are among the best of the Alaskan work force. Many of our professional construction personnel have been with us for decades sharing in our ideals of safety, respect, environmental responsibility and quality workmanship.
Our superior workforce has allowed us to hold a safety record that is among the best in the industry. GNI employs a full time safety manager and has developed a comprehensive safety program to ensure that company employee's health and safety take priority over all company operations.
2019 UPDATE: Great Northwest, Inc. makes Top 49ers Club again!